OUR METHODOLOGY
MOA Method
Our Method is based on different effective pedagogical strategies. It has been put into practice by thousands of students, showing remarkable linguistic improvements in short periods of time. 
We primarily develop expression and interaction, while still incorporating other language abilities, such as writing and reading comprehension. It stands out for being fun, interactive, participatory, and technological, and it allows us to personalize the contents according to the needs of every student. We also adapted our methodology to online classes, and to different learning styles. 
Each of our syllabi was built by Venezuelan specialists, unique and exclusive to Move On Academy.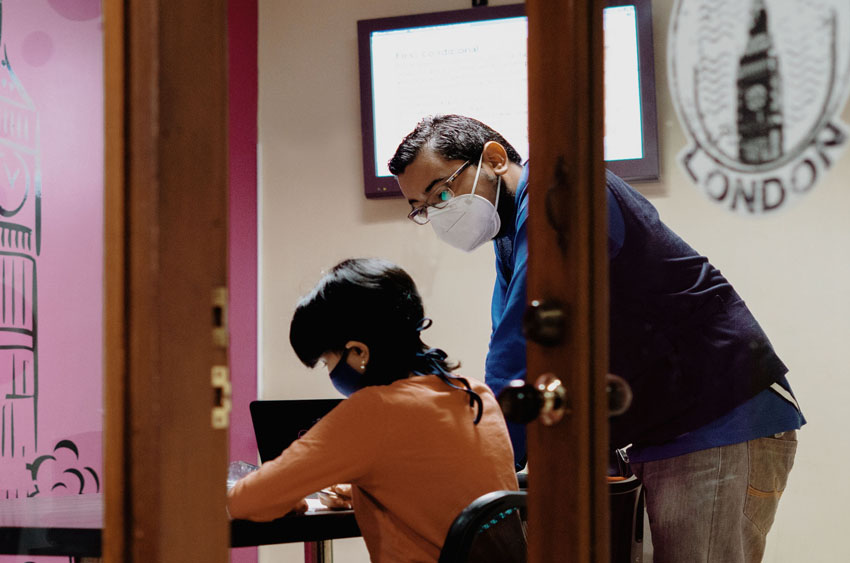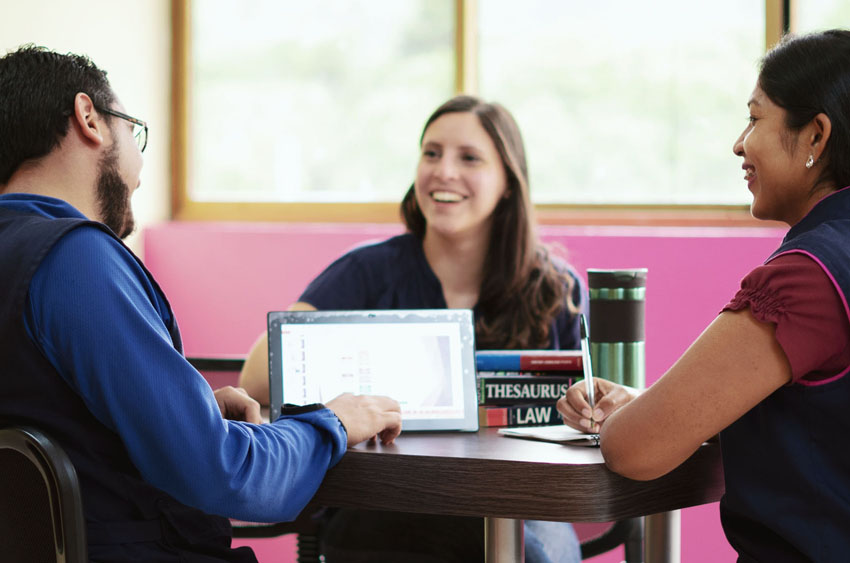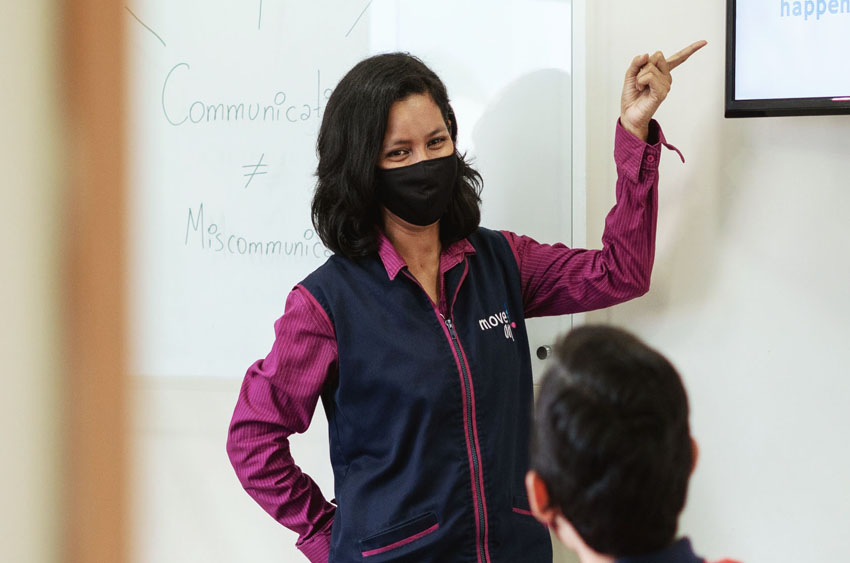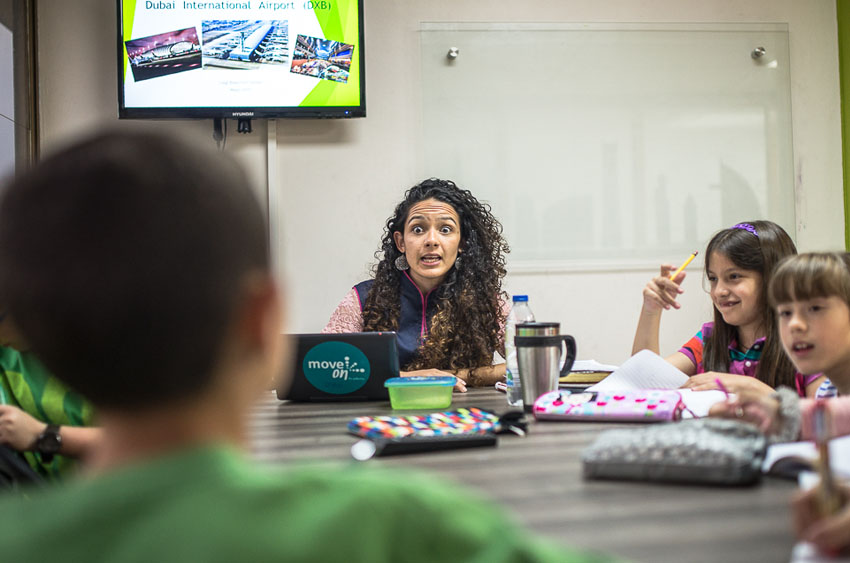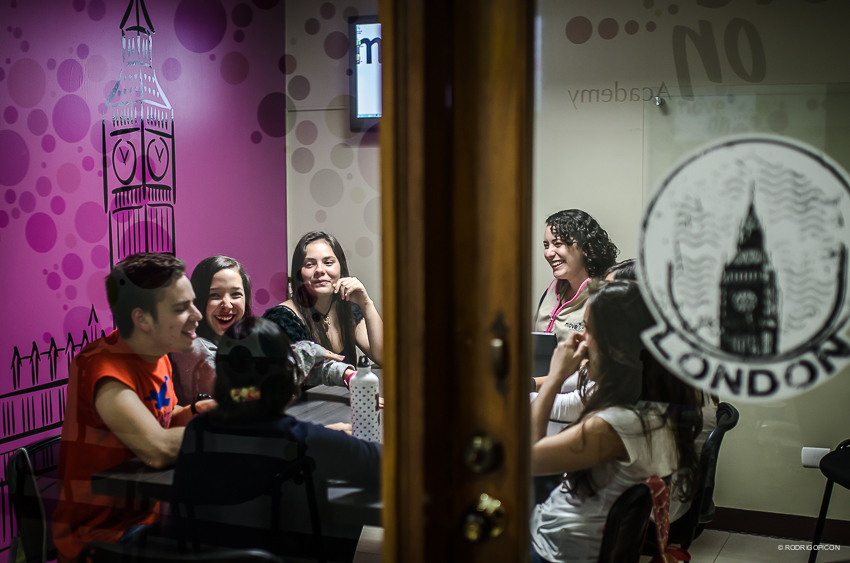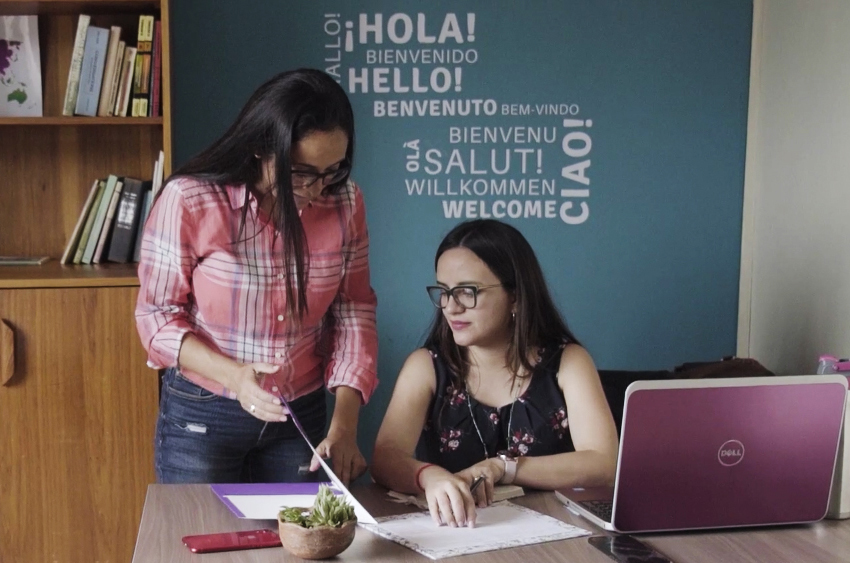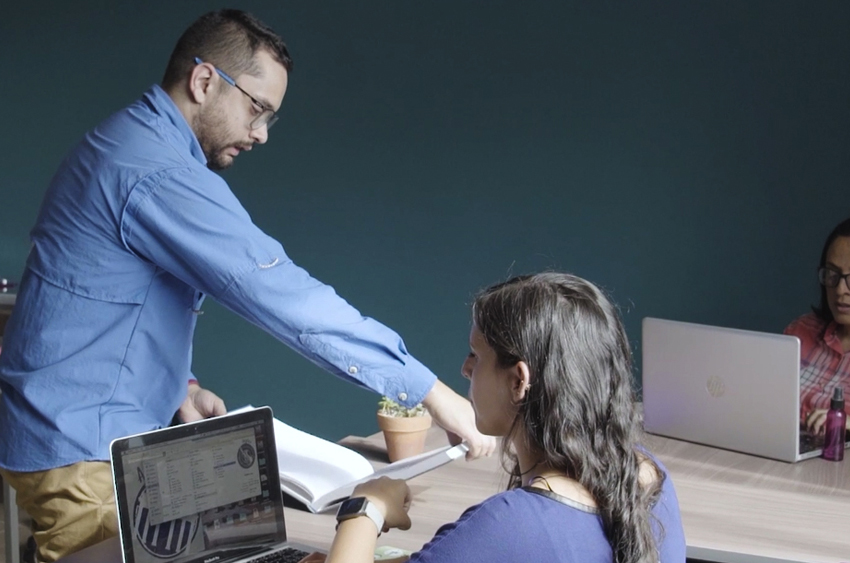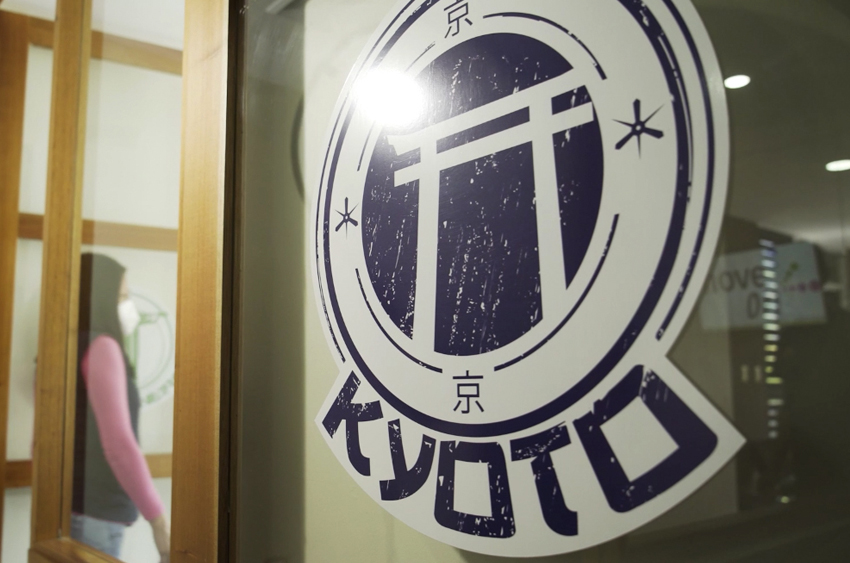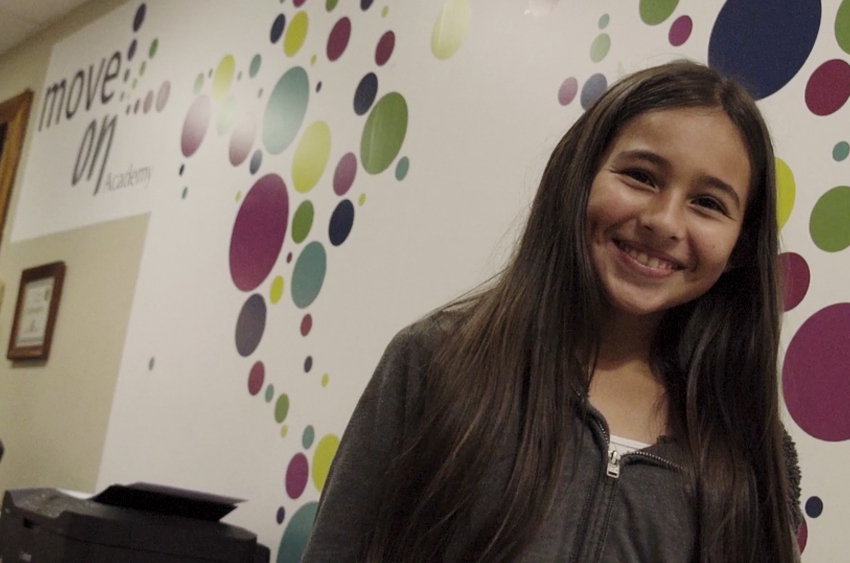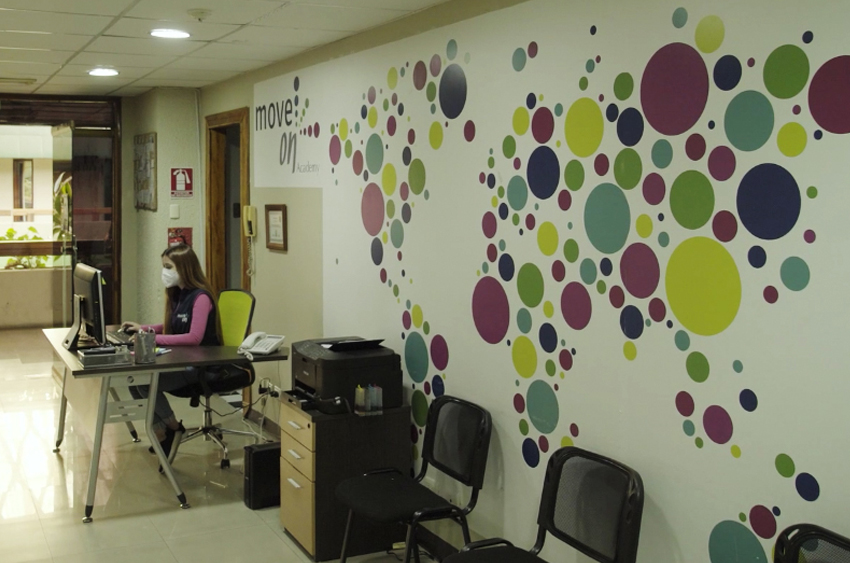 Move on academy
Values
We care about offering our best qualities to live in harmony in our Academy, between teachers and students.
Excellence
We like to do things right, as best as possible, to constantly exchange feedback and seeking to improve day by day, aiming for excellence.
Fun and Joy
To have a blast and enjoy the teaching-learning process, and having fun in every stage of it.
Discipline
We respect the processes and timings of our students and staff, but we also help each other improve.
Teamwork
We enrich with the strengths of one another, and we build the company together.
Autonomy and responsibility
The search for maturity of each member of the team invites us to accept the challenge of tearing down language barriers. We encourage each and everyone to grow both professionally and personally, taking charge of the consequences of their decisions.
High-Quality teaching
Our
Academy
We are a franchise from Venezuela. We are dedicated to the teaching of languages both on-site  as well as online. We always teach live: English, French, Italian, German, and Spanish (always seeking to offer more and more languages).
We started up back in February 2013 in the city of Merida, Venezuela, with only 4 classrooms. In 2014, we doubled the number of classrooms. In 2016, we became a franchise for the very first time. In 2017, for the second time in another country: Bogota, Colombia. In 2020, we opened the doors to our third franchise in the city of El Vigía, Venezuela, and again in 2021 in Baton Rouge, USA.
Our values as an Academy have allowed us to create a high-quality teaching environment. Our teachers go through training and capacitation processes, which allow us to establish high standards of personalized and creative education. We have achieved our positioning in the market through a continuous effort that has allowed us, for example, to attend –only in headquarters- more than 3,500 students since our inauguration.
MOA Foundation
We are a non-profit foundation that started in 2016. We have clear goals: development of social welfare work, donations of toys and school supplies, and granting scholarships to those in need so they can study languages ​​at Move On Academy. We look forward to sensitize our community made up of students' relatives and close ones so we can raise awareness of the social reality that surrounds us. In addition, we offer workshops using modern educational techniques, aiming to take action in these matters.
Milena Araujo Ferrer is the director of the MOA Foundation since 2018. By consistency and perseverance, she has managed to carry out this project in different communities. She has worked with our own company staff, parents and students, who are what we called MOA FAMILY.
Milena Araujo Ferrer es la directora de La Fundación MOA desde el año 2018, con un trabajo constante y perseverante ha logrado que este proyecto se lleve a cabo en distintas comunidades, en todo el personal de la Academia e incluso entre los padres y alumnos, que, sin duda, son parte de nuestra MOA FAMILY.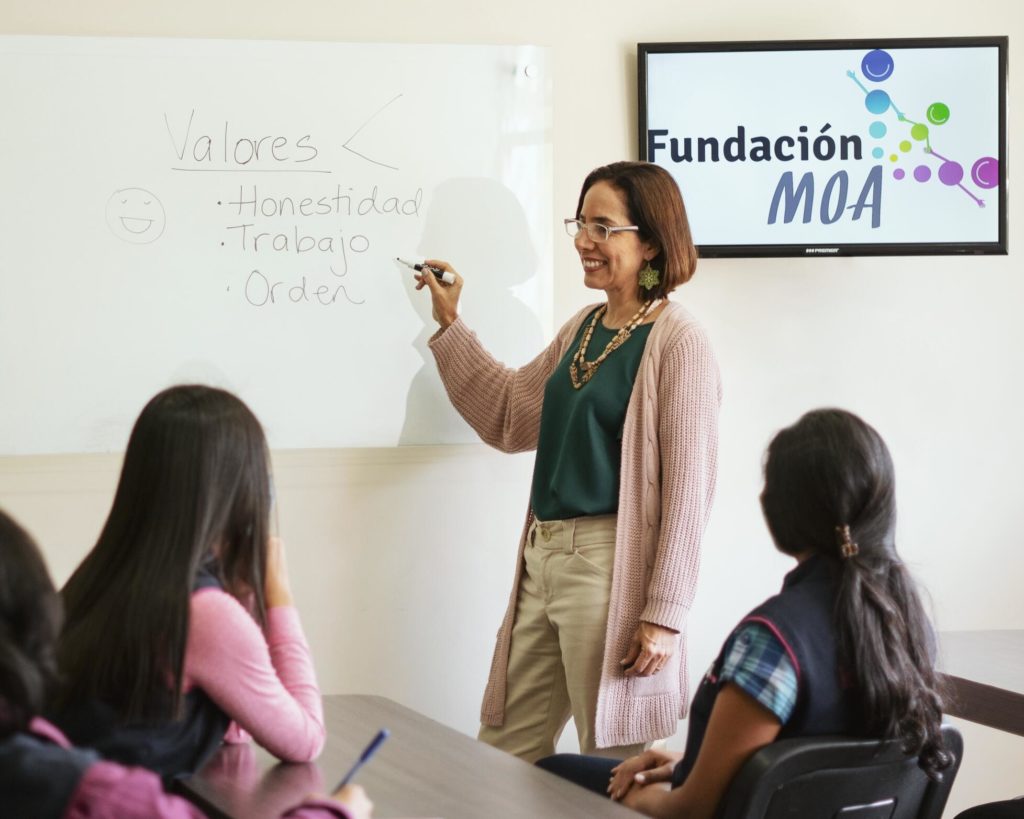 Learn with Move On Academy
Testimonials
Me encanta la enseñanza de la academia. ¡Los profesores son increíbles! Estoy feliz de haber aprendido un nuevo idioma
Me encanta la enseñanza de la academia. ¡Los profesores son increíbles! Estoy feliz de haber aprendido un nuevo idioma
Me encanta la enseñanza de la academia. ¡Los profesores son increíbles! Estoy feliz de haber aprendido un nuevo idioma
Me encanta la enseñanza de la academia. ¡Los profesores son increíbles! Estoy feliz de haber aprendido un nuevo idioma
Me encanta la enseñanza de la academia. ¡Los profesores son increíbles! Estoy feliz de haber aprendido un nuevo idioma
Visit Us
Branches
Find us in our closest location! Learn your preferred language on-site or online.
TALENT, PREFESSIONALISM AND EDUCATION
About Us
At Move On Academy, we are convinced that companies need, in order to gain a competitive advantage, to invest in their human capital. Teamwork. 
Our organization provides the environment to make the most of our professionals' skills and talents. Together we develop a successful corporation that is constantly growing towards its goals. We erase the language barriers of our students, making the world more accessible. 
The headquarters are run by Verónica González O., Luis Fernando Sumoza Q., Gabriella Cova R., and Ninfa Vivas B.
Verónica González O. is the one in charge of Financial Management. Projecting economic and strategic planning for our Academy. Together with Mónica Bello, Vero started this project back in 2013. Her contribution to our team has been constant up to this day. We can define her by her fighting spirit, perseverance, energy, and work capacity. Elements that generate a seal of excellence and differentiation and transform Move On into an organization. 
Luis Fernando Sumoza Q. is in charge of the Academic Direction. He guarantees high standards of education, personalization, theoretical and scientific research, and academic staff training.
Since the beginning of this Academy, Luis has shown his love for foreign language teaching. Move On has counted from the first day of classes with his creativity, analytical capacity, and appetite for cultural knowledge. As a partner, he is dedicated to the development of competitive strategies that give value to our company.
For her part, Gabriella Cova Ramírez, a partner since 2016, is the one in charge of taking care of our corporate image and marketing strategies: Marketing Management. Gaby brings with her organizational skills and her follow-up on details an added advantage to the team. By her thoughtful, meticulous, and determined behavior, our company has perceived great organizational advances. We found the aesthetic personality that characterizes us.
Ninfa Vivas, also a partner since 2016. She is in charge of the Operational and Logistics Department. Her role inside the company consists in watching and managing processes and keeping high-quality standards. Working with teachers and administrative personnel and building a pleasant and evolving environment. Her kindness and diplomacy promote an agreeable work environment. She  organizes resources necessary to take Move On to the next level.
TRAINED PROFESSIONALS
Team MOA
At Move On Academy, we count with the best teachers. Completely trained to transmit our teaching method.
Learn Languages
Benefits of studying at Move On Academy and learning languages
Choose between the on-site or online modalities
Have significant progress in short periods of time
Increase your ability to solve problems
Our Staff is composed of highly trained professionals with international experience
Help prevent the deterioration of mental capabilities which can lead to Alzheimer's and dementia
We have regular and personalized hours of classes
Study English at Madison Wisconsin through our discounts with the Wisconsin ESL Institute (WESLI)
Promote your cognitive flexibility
We encourage fluency and naturalness in the foreign language
Significant influence on cognitive development during growth stages
The syllabus are developed and designed by the Academy and exclusively for the Academy
Our brain goes through developmental processes that are directly stimulated by the acquisition of new languages
We stand out when it comes to cultural learning